The last orca who needs rescuing is, of course, Morgan. I have mentioned her story in my very first article, so click ->here<- if you want to read it.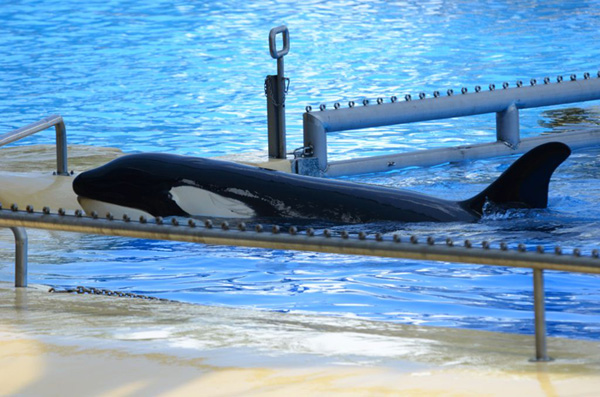 Morgan is a lone female orca who was rescued in the Wadden Sea, off to the northwest coast of the Netherlands in June 2010. She was found in very poor health (weighing approximately 950 pounds and likely being dehydrated – she was 11.5 feet long) and was therefore rescued and administrated medical assistance in a dolphinarium's tank in Holland. When her health condition improved, she was not sent back to her natural environment, like supposed to. Instead, she was moved to Loro Parque, in Spain in November 2011. Since then, she is forced to perform in orca shows with other orcas (5 in total) who bully and attack her. She has many rake marks and scars on her body. On the Free Morgan Foundation website, it is actually said these orcas are dysfunctional because they show "serious social and behavioural issues" (they have already attacked their trainers, and the orca male Keto even killed one trainer in 2009). When she is not performing, she is chewing on the concrete walls of her tank due to stress and boredom.
It has been said that Morgan was sent to Loro Parque as this was "in her best interest", this is not true. Morgan was sent to Loro Parque due to loopholes in laws. There was, and still is a solid, well organized rehab and release plan for Morgan by some of the world's top orca experts (including Dr Ingrid Visser). We know where her family is and there is no reason why she would not be accepted into this pod especially as she is a young female.
What you can do to help:
Click here to follow what the Free Morgan Foundation advises you to do. You'll see the links to the official petition, the Facebook and Twitter accounts, and all the other ways you can raise awareness around you or donate to support the foundation.