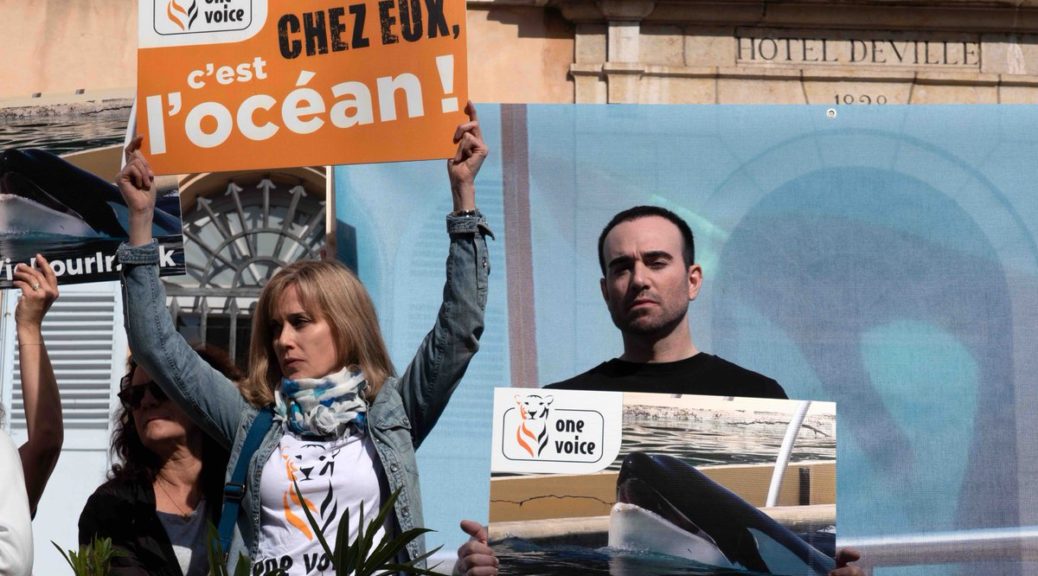 Back to hell for a former trainer
John Hargrove, ex-trainer, returns to Marineland (France), 7 years after his resignation.
The Organisation One Voice contacted him in order to draw attention on one particular killer whale's health: Inouk, a male born 23rd February 1999.
At only twenty years old, Inouk should be in the prime of his life. He is NOT. The young male shows an auto mutilating behaviour. One only has to look at Inouk's non-existing teeth.
All captive orcas have damaged teeth, a result of them chewing the concrete walls of their tank. Leaving the pulp of their teeth exposed, which trainers had to drill out, a procedure that can be performed without anaesthesia. The hollow teeth are not filled in, and have to be flushed daily to prevent disease.
Inouk's jaw has no more teeth to show.
There is a petition asking for the rehabilitation of Inouk into a sea sanctuary. Please, sign and share. Inouk has no time to lose.
#uneviepourinouk (translated to One Life For Inouk)
In May, the organisation Keep Whales Wild – Cétacés Libres donated for that cause.
We are grateful for your donations as well which support our actions [wpedon id=2202]
This shocking image from Dolphin Project shows how southern resident orcas of Vancouver are starving to death.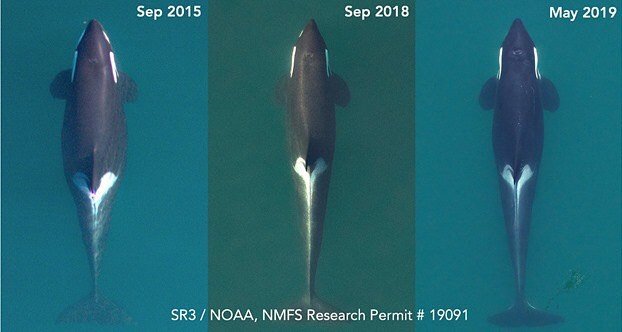 With only 75 of them left, dams blocking salmon from spawning are the reason why this is happening.
Howard Garrett, co-founder and president of Orca Network states « The best and quickest way to provide more Chinook into the southern resident orca habitat is to restore the Snake River" and remove the Snake River dams (circled here)
"Dam removal would save $100s of millions a year in turbine and lock maintenance and on-going salmon mitigation expenses. Dam removal could also save the Bonneville Power Administration from financial insolvency.
The power from the Snake River is now completely surplus, not needed and rarely used at all."
Sadly, "the people have all been told by pro-dam lobbies and federal agencies that dam removal would require either Congressional approval in some form or a new Environmental Impact Statement so that one day, the call could be submitted by the Bonneville Power Administration and U.S. Army Corps of Engineers to remove the dam."
There's a ten-year timeline at best before the first dam is opened!
Southern resident orcas have had three deaths in two months. They do not have ten years worth of waiting, especially with what a 4-year difference looks like on their bodies!
WDC believes it takes a village to save a species and that we must work together to save the orcas and the ecosystem that supports them. 
The Southern Residents were the most heavily impacted by captures during the 50s-60s when captivity was so trendy, losing at least 47 individuals.
Captivity was the original threat that reduced their population, but major ecosystem changes are what now prevent them from recovering.
This historic range of orcas and salmon places both of them in close proximity to highly developed areas. Areas which are often the sources for agricultural, industrial and urbans chemicals that can impair the orcas' immune and reproductive systems and can directly kill the salmon.
We must bring balance back to watersheds for the long term recovery of wild salmon, restore clean water for the health of the orcas and the salmon and give them acoustic space to rest (orcas rely on sounds for communication, navigation, finding foods and other vital activities)and socialise.
"Our everyday choices (making our homes chemical-free, […] avoiding single-use-plastic items and calling for policy changes) impact the health of our oceans and all those who live there." Says Colleen Weiler, working at WDC to protect the Southern Resident orcas.
However, we can cheer about this wonderful news: new orca calf!
This is the second calf born to the endangered southern resident orcas since January!
Everybody is praying and hoping the calf will reach adulthood in great health.
Scientists estimate the birth around end of April – beginning of May.
Cause of Kayla's death released
Kayla died on the 28th of January, at only 30 years old.  
On May 21st, SeaWorld finally released the cause of death of Kayla. They determined she died of lung disease that apparently "presented very quickly." 
"Not one single orca, at any park anywhere in the world has ever died from old age. That fact alone should speak for itself", says John Hargrove
Canada passes a "Free Willy" bill
Mid-June, Canada's Parliament passed legislation banning whales, dolphins and porpoises from being bred or held in captivity.
Marineland in Niagara Falls, Ont., and the Vancouver Aquarium in B.C. are the only two places that currently keep captive cetaceans.
Violations are punishable by fines of up to 200,000 Canadian dollars (about $150,000).
The bill contains some exceptions:
– Marine mammals already held will be allowed to remain in captivity.
– Animals can be kept during rehabilitation from injury or for the purposes of licensed scientific research.
The bill was first introduced in the Senate in 2015 and eventually made its way into the House of Commons, animal rights activists, who have long argued that containing marine mammals and training them to entertain amounts to cruelty, celebrated the news!